We are happy to Announce that
We courier your printout material
throughout India.
While, in Mumbai you can get
same day delivery by courier
&
For outstation we will
ready and book your parcel the
very same day when we get order
- For Max 5000 pages of confirmed order
ie. (Payment) received before 4 pm
(Please call and confirm this before placing order
..some times we more than overloaded)
Challenge…Hamare Rate Pe.…aisi quality and paper
..Dene Ka kisi Me dam hi Nahi…hai
Challenge…No One Has Guts to print such a quality
on best quality paper at our rates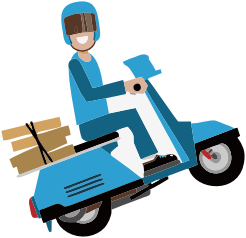 COLOUR PRINTS UNBELIEVABLE PRICE FOR
RS. 3/- ONLY - A/4 SIZE
for Minimum 200 pages

Do you write books or novels ..
want to print/publish books
by your own.
We will print it & bind it
with best quality finishing.
At cheapest rates.
With option of printing and binding
Starting from just 5 books.
Please check reviews given by our customers & also give your review